Hawaiian is a beautiful language and knowing a few key words beyond "aloha" and "mahalo" will enrich your vacation experience. With this unique language guide, you'll learn the Hawaiian words for native plants and ocean life, greetings, places, foods and much more. Take this Language Map® with you as you explore the Islands—from snorkeling at Hanauma Bay on O'ahu to your sunrise trek up Haleākalā on Maui.
Hawaiian is one of the official languages of Hawai'i and you'll notice that it's interwoven into daily life and conversation. Did you know that Honolulu means "sheltered bay"? Or that Pali Highway is actually "Cliff Highway" because "pali" means "cliff"?
HAWAIIAN a language map® presents the English, the Hawaiian, and the phonetic spelling, so it's easy to learn and share your new words and phrases immediately. Before you know it, "ma uka" and "ma kai" will become second nature, and the locals will feel like " 'ohana."
Wherever you roam in the Islands, take this Language Map® with you. Have fun with Hawaiian and immerse yourself in the culture—it's sure to bring you a deeper appreciation for the beauty and the magic of Hawai'i.
Hundreds of words and phrases you'll need most
Divided into key categories such as Greetings, Plants & Animals, Ocean Creatures, Environment, Street & Place Names, Food, Spiritual Side and much more
Unique snap-open and fold design
Pronunciation is easy with simple phonetics
Ultra-thin (barely 1/8" thick) and light-weight (under two ounces)
Laminated for durability
Folds up like a map to slip easily into your pocket or bag
Full color, original artwork
Show less
HAWAIIAN is spoken in . . .
view countries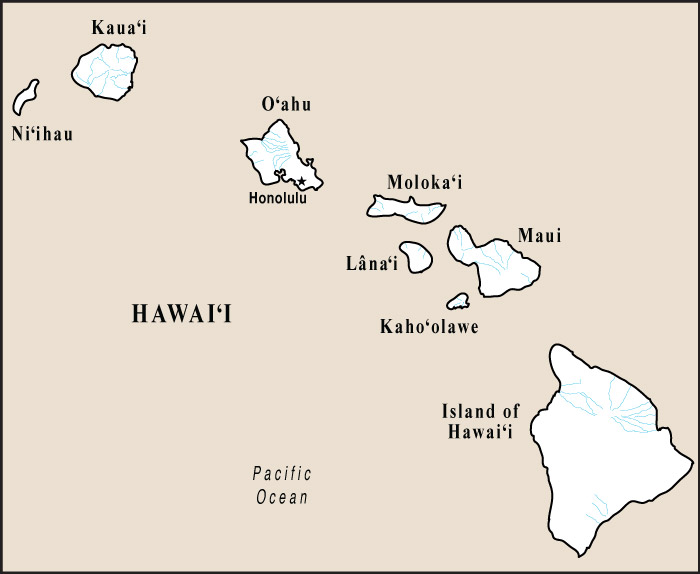 Product Details . . .
Publisher: Bilingual Books, Inc.
Author: Kristine K. Kershul
Language: Hawaiian for English speakers
ISBN-13: 978-0-944502-17-4
Edition: First
Publication Date: July 1, 2015
Series: Language Maps®
Format: Paperback
Product Dimensions: 4 x 10½ inches
Category: Travel, Foreign Language Study
Available: Canada, from Raincoast Books


United Kingdom, from Gazelle Book Services
Show less
Product Details . . .
Show more