From the time you step off the plane, hop in a cab and order your first "cerveza," you'll want the local language in your back pocket and SPANISH a language map® is just the ticket! This clever guide gives you exactly what you'll need at a glance with the most essential words at your fingertips. You'll have more fun asking for directions (¿Dónde está el hotel?), shopping for souvenirs (¿Cuánto cuesto?), or greeting the locals (¡Buenos días!) because you can do it in Spanish! A traveler's dream come true, this Language Map® is perfect for your holiday on the beaches of Costa Rica or that long-awaited trip to Spain.
The only easy-to-use, portable language guide with a quick snap-open and fold design.
Provides immediate access to the essential words needed while traveling—no flipping through pages, waiting for an internet connection, or dealing with dead batteries.
Hundreds of words and phrases you'll need most.
Divided into key categories such as Asking Questions, Dining Out, Meeting People, Shopping, Telephone, Internet, Sightseeing, Transportation and much more.
This edition features a brand new "Phone, Mail and Internet" section for today's tech-savvy traveler.
Pronunciation is easy with simple phonetics.
Light as a feather (under two ounces) and ultra-thin (barely 1/8" thick), it's effortless to carry.
Rugged, laminated and waterproof, it's indestructible, outlasting lively culinary adventures, active bicycling, skiing and hiking holidays.
Folds up like a map to slip easily into your pocket, bag or backpack.
Full color, original artwork.
Show less
SPANISH is spoken in . . .
view countries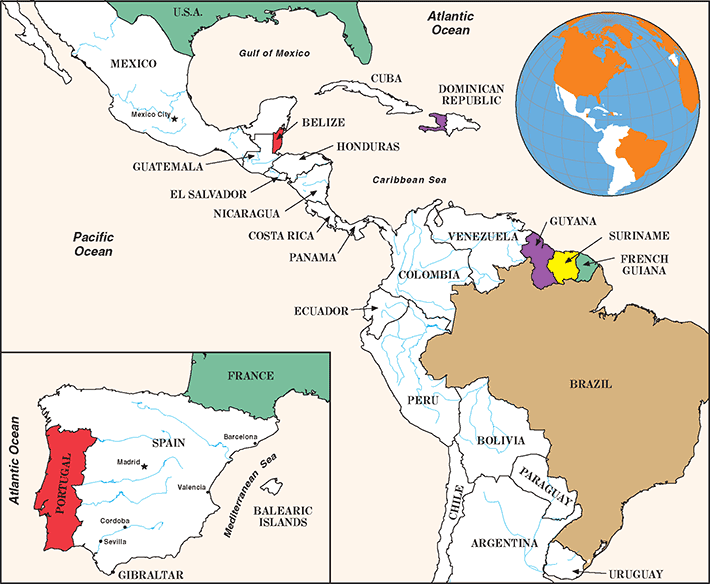 Product Details . . .
Show more
Product Details . . .
Publisher: Bilingual Books, Inc.
Author: Kristine K. Kershul
Language: Spanish for English speakers
ISBN-13: 978-1-931873-71-0
Edition: Third
Publication Date: November 1, 2015
Series: Language Maps®
Format: Paperback
Product Dimensions: 4 x 10½ inches
Category: Travel, Foreign Language Study
Available: Canada, from Raincoast Books


United Kingdom, from Gazelle Book Services
Show less